This website may contain affiliate links and advertising so that we can provide recipes to you. Read my privacy policy.
A delicious and easy to make pizza with creamy alfredo sauce, juicy chicken, melty mozzarella, and crispy bacon! It is sure to be a hit!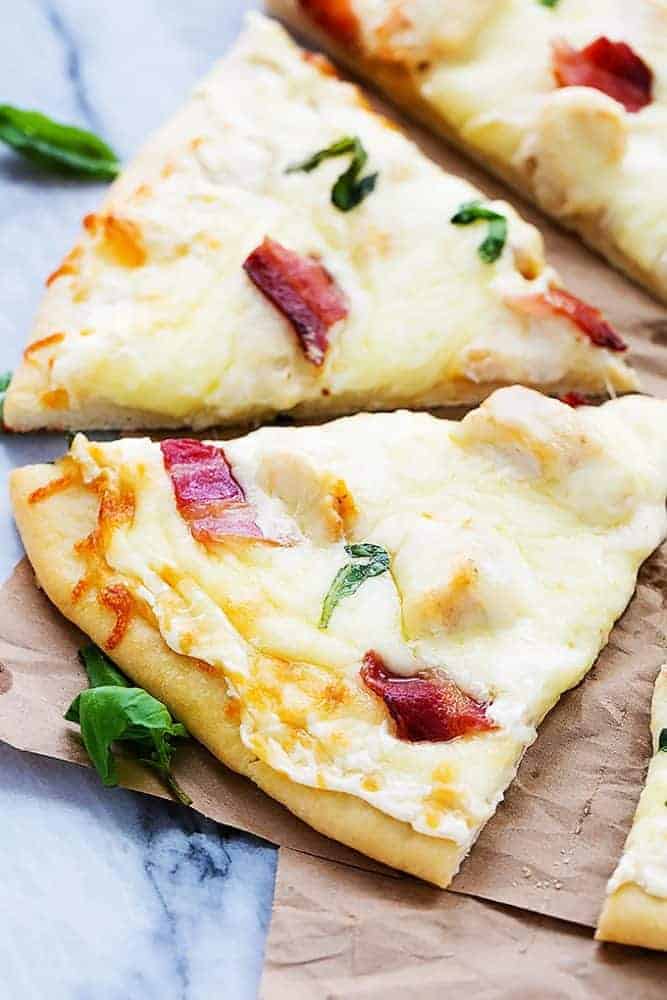 Hey hey it's Tiffany from Creme de la Crumb and we are having PIZZA today!
Raise your hand if you are a serious pizza addict. It's okay friends, you're in good company. I really really love me some pizza. And I'm not even that picky. I will take the fanciest, most authentic pizza from a real deal Italian joint, but I have been known to eat my fair share of Little Caesars five dollar pepperonis in my life. One kind of pizza I've come to be pretty much obsessed with in my adult life is homemade pizza. I love fixing my own pizzas at home with exactly the sauces and topping I want – without having to pay a dollar per topping, am I right?!
This pizza is one of my favorites with a creamy alfredo white sauce, juicy chicken, melty mozzarella, and crispy bacon! I love these flavors together. I like to top it all with a little bit of fresh basil to give it a fresh herb boost but if you don't have any on hand don't fret – it's still amazing without it!
The bacon though, that is non-negotiable. You MUST add bacon to your chicken alfredo pizza or you will be seriously missing out. This pizza is easy to make (you can use your favorite homemade dough or a quick-fix storebought version if you really wanna cut down on prep time!) and is such a hit with both kids and adults! Your family will love it!